Colombia Fashion
14 May 2013 | World Fashion Info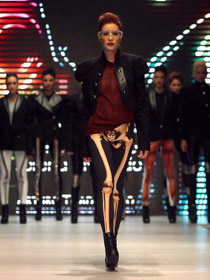 From 07 to 09 May 2013 was held `Circulo de la Moda de Bogota`, in Bogota, Colombia.As you can see the cyclamen is still hot. The first photo presents a model created by Colombian Wayuu (ethnic group) designer Marta Arredondo. The accessories are also subjected to the trend, called "ethnic style", full with colors and freshness..The models are simple with a flavor reminiscent of antiquity .
The first one is creation by Colombian Wayuu (ethnic group) designer Bertha Henriquez .During the event was presented the accessories' collection of Paris Hilton.
The next models are created by the French brand Marithe & Francois Girbaud .and Colombian designer Pepa Pombo.
At the event were shown models is created by students of the Universidad de Los Andes and students of the School of Design Arturo Tejada Cano .

Read more about fashion in Columbia.



Hits: 10671
Ordering Art Work Online: What To Look Out for?
---
5 surfing brands you need to know about
---
The Top 5 Footwear Trends to See You Through 2020
---
Reasons to wear gold bracelets
---
White Label World Expo London - Why should Manufacturers attend it?
---
Adam Lambert is the winner of Most Stylish Men September 2019
---
5 Must-Have Summer Accessories Women Should Have
---
How to Incorporate Your Leggings for Your Business Casual Look
---
What is the Best Color to Wear On a First Date?
---
Why Is Online Betting So Popular?
---