Alta Roma Alta Moda fashion week
08 July 2013 | World Fashion Info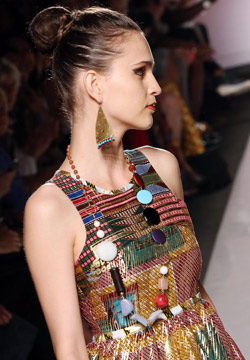 Alta Roma Alta Moda is Rome's celebrated Fashion week, whose two annual appointments in January and July, create innumerable opportunities for the meeting between historic Italian fashion houses and new, international creative and production realities.
Tradition and sartorial workmanship, cultural heritage and projects targeted towards the future. In Rome, fashion's DNA carries that sense of craftsmanship and material culture that, today, is manifested in neocouture.
This is the distinctive trait of Roman couture, which re-engineers contemporary style, interpreting it through garments and accessories which, in synergy with the city, make the Alta Roma Alta Moda event an ideal stage for the present.
The driving force behind Italian haute couture and a new launch pad for emerging designers, Alta Roma is synonymous with tradition and experimentation.
From the promotion of Made-in-Italy products to the safeguarding of the artisanal values that have made Rome famous throughout the world, Altaroma's mission is based on maximizing all forms of excellence ranging from the most traditional right up to neocouture, considered the definition of a new language, a meeting place between sartorial tradition, research and cutting-edge trends in an international scenario boasting a meld of art, fashion and culture.
We selected for you models from the Spring/Summer 2014 collection by Christie Brown during the 'ITC's Ethical Fashion Initiative and Alta Roma - Bring Africa to Rome' show atthe Alta Roma Alta Moda Fashion week in Rome, Italy. The Alta Roma event runs from 06 to 10 July.
Read more about Italian fashion.



Hits: 1545
Ordering Art Work Online: What To Look Out for?
---
5 surfing brands you need to know about
---
The Top 5 Footwear Trends to See You Through 2020
---
Reasons to wear gold bracelets
---
White Label World Expo London - Why should Manufacturers attend it?
---
Adam Lambert is the winner of Most Stylish Men September 2019
---
5 Must-Have Summer Accessories Women Should Have
---
How to Incorporate Your Leggings for Your Business Casual Look
---
What is the Best Color to Wear On a First Date?
---
Why Is Online Betting So Popular?
---