The Colombiamoda fashion event
25 July 2013 | World Fashion Info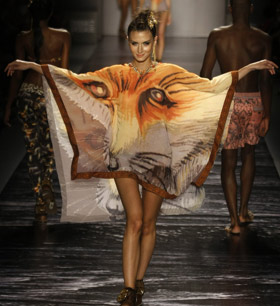 The Colombiamoda fashion event was held in Medellin, Colombia on the 24th of July. There you could see the Leonisa brand and Agua Bendita brand.
Leonisa brand: They create beauty solutions that make difference, with emphasis in lingerie fashion for latin women. They construct relations of value with all the actors, we are committed to customer service, human an technological development and social responsability. Leonisa deeply understands women. Since 1956, Leonisa has created innovative, high-end design solutions to enhance and express the intimate beauty of women. Throughout these years, they have managed to combine what they characterize as the Latin woman expression and have used it in the design of women's intimate apparel.
Agua Bendita brand: Agua Bendita is a Colombian swimwear brand, created in 2003 by Catalina Álvarez and Mariana Hinestroza, who have been the brand designers and owners since the beginning. The company started when both designers were still in school pursuing their Major in Fashion Design at the Colegiatura Colombiana University Institution. It was an affinity in friendship and complemented tastes rather than a business concept at the beginning. During the last 7 years, Agua Bendita has been characterized by giving an innovative and modern touch to its genuine, Colombian garments. This makes them modern, dynamic and catchy. The success-factor of this company has been the combination of laser cutting with high quality, imported products and materials, which have been the spear point of product development. Also, the lucky seal, so to speak, of Agua Bendita's garments, are the handcrafts made by Colombian artisans, who with their experience and accompanied by the brand's designers, have been able to create hand-made pieces based on traditional handcrafts that give a vanguard touch.
Photos: BGNES

Read more about Colombian fashion.



Hits: 3085
Ordering Art Work Online: What To Look Out for?
---
5 surfing brands you need to know about
---
The Top 5 Footwear Trends to See You Through 2020
---
Reasons to wear gold bracelets
---
White Label World Expo London - Why should Manufacturers attend it?
---
Adam Lambert is the winner of Most Stylish Men September 2019
---
5 Must-Have Summer Accessories Women Should Have
---
How to Incorporate Your Leggings for Your Business Casual Look
---
What is the Best Color to Wear On a First Date?
---
Why Is Online Betting So Popular?
---