India Bridal Fashion Week
01 August 2013 | World Fashion Info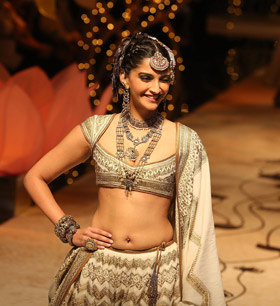 Bollywood actresses presented the new Bridal collections of Ashima and Leena and Rohit Bal during the India Bridal Fashion Week in New Delhi.
Style becomes him. Rohit Bal changed the face of the Indian fashion and along with it the Indian man. Internationally famous for his suave cuts and breathing fabrics, Rohit Bal represents the true free spirit of an artist. His creations like his personality are unrestricted by norms. Rohit Bal started with traditional wear for men in 1990 and has since then surpassed his peers and gone ahead to create a niche for himself in the world of fashion. His designs have been worn by accredited personalities all over the globe. Awards and critical acclaim have honored this destiny's own child ever since he graduated from St Stephens's college, Delhi. Yet there is much more to this multi faceted designer who has a passion for life that reflects in his creations. Rightfully christened by Times Magazine as 'India's master of fabric and fantasy', Rohit Bal has designed outfits using almost all fabrics under the sun. Even Khadi (Indian handloom textile) has been used by the immensely talented designer to create up-market and dignified outfits. Subtle in his choice of colors, Rohit prefers to use pastels and earthy tones to dress up men and women. However, there is no one-signature style that the designer sticks to. Loved and respected by his peers for the sheer energy, Rohit displays in his personal and professional life, Rohit Bal is one artist who needs no introduction.
Today, Ashima-Leena is a well renowned and one of the most senior label in the Indian and Global Fashion, with more than 170 solo shows, including participation in the prestigious India Fashion Week , ever since its inception in 1999. Leena Singh has also been an active Board member of the FDCI, ever since it was formed and has been actively involved in its policy makings and workings.
The Ashima-Leena label combines Indian craftsmanship with innovative western silhouettes to create an enigmatic, distinctive look. The brand's design philosophy strives to bring out the best in every woman through ensembles that are traditional yet contemporary. An established and well-reputed label, the designs speaks of remarkable hard work and superb craftsmanship. Emphasis on quality, attention to detail, fabric development and intricate, ostentatious embroideries are the hallmarks of the creativity behind the brand.
Read for more fashion from India.

Photos: BGNES



Hits: 2010
SWISS ARABIAN - A legacy that spans almost half a century
---
5 Simple Ways to Celebrate Love Using Silver Heart Necklace
---
4 Simple Tips for Wearing Expensive Jewelry in A Work Place
---
Ordering Art Work Online: What To Look Out for?
---
5 surfing brands you need to know about
---
The Top 5 Footwear Trends to See You Through 2020
---
Reasons to wear gold bracelets
---
White Label World Expo London - Why should Manufacturers attend it?
---
Adam Lambert is the winner of Most Stylish Men September 2019
---
5 Must-Have Summer Accessories Women Should Have
---