The International Footwear and Leather Show
01 August 2013 | World Fashion Info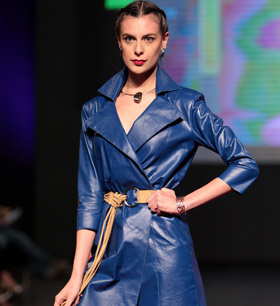 On the 31th of July was held the International Footwear and Leather Show in Bogota, Colombia.
We selected for you some of the models of the Siuk, Lira Ferrer and Julia de Rodriguez.
Lira Ferrer is a company incorporated in March 2009 in Cartagena - Colombia, under the name of her founder Lira Ferrer, dedicated to the design and manufacture of handbags and leather accessories. Lira Ferrer, is registered in Colombia, Chile, Peru and soon in the United States. In 2011 starting from the idea of create a very innovative and competitive international product, made in leather they offer unique items. This is possible with every one of their products, with Colombian emeralds getting style and exclusivity for the brand and the customers. LIRA FERRE'S bags are made with fine natural leather, and hardware made in different metals such as bronze, silver and gold; Finished by hand through a traditional process with fine Colombian emeralds encrusted by goldsmiths, making their products in one of the finest and elegant jewelry.
With over 40 years of experience in handling leather and fur, JULIA RODRIGUEZ is characterized by giving each piece its own life. It focuses on creating original and versatile designs that will satisfy the most demanding styles. The quality of the clothing and garments are the pride for the company, since they are produced with raw materials of the highest quality and through a process which includes a careful manual work.
Photos: BGNES



Hits: 1713
Ordering Art Work Online: What To Look Out for?
---
5 surfing brands you need to know about
---
The Top 5 Footwear Trends to See You Through 2020
---
Reasons to wear gold bracelets
---
White Label World Expo London - Why should Manufacturers attend it?
---
Adam Lambert is the winner of Most Stylish Men September 2019
---
5 Must-Have Summer Accessories Women Should Have
---
How to Incorporate Your Leggings for Your Business Casual Look
---
What is the Best Color to Wear On a First Date?
---
Why Is Online Betting So Popular?
---