Mercedes-Benz Cape Town Fashion Week
13 August 2013 | + Boyana Dimova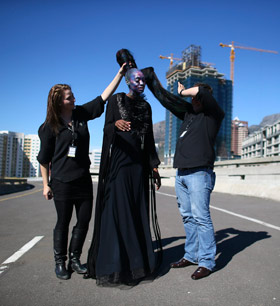 At the Mercedes-Benz Cape Town Fashion Week was presented the new Spring-Summer 2013/14 collection by South African designer David Tlale. The event ran on the 10th of August. Cape Town's Fashion Week attracts designers from across the continent.
David Tlale is a household label that firmly stands its own ground among a sea of other labels; this being attributed to the sheer design erudition and precision that challenges mediocrity.
Both daring and dramatic, David Tlale is a brand that defies convention and a brand that impenitently employs unpredictable use and understanding of fabric, colour and texture.
Life is an occasion; celebrate it in style, elegance and pure indulgence of a David Tlale Original.


Hits: 1810
Ordering Art Work Online: What To Look Out for?
---
5 surfing brands you need to know about
---
The Top 5 Footwear Trends to See You Through 2020
---
Reasons to wear gold bracelets
---
White Label World Expo London - Why should Manufacturers attend it?
---
Adam Lambert is the winner of Most Stylish Men September 2019
---
5 Must-Have Summer Accessories Women Should Have
---
How to Incorporate Your Leggings for Your Business Casual Look
---
What is the Best Color to Wear On a First Date?
---
Why Is Online Betting So Popular?
---