Copenhagen Fashion Week
13 August 2013 | + Boyana Dimova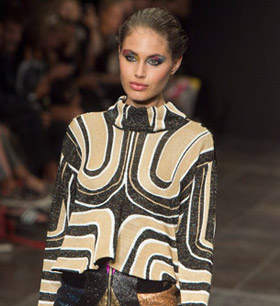 On the 9th of August were presented the new Spring/Summer 2014 collections of the designers Freya Dalsjoe, Bibi Chemnitz and the fashion brand Moon Spoon at the Copenhagen Fashion Week. Spring/Summer 2014 collections and fashion dresses are presented at the event that runs until 11 August.
Bibi Chemnitz was founded by Grreenlandic Bibi Chemnitz and Danish David Rogilds in 2006. Bibi Chemnitz designs and creates their own unique style from their workshop.
Bibi Chemnitz now designs whole range collections for both sexes and special designs sold only in Bibi Chemnitz store.
The raw location store is also used for exhibitions and underground events for new and young talents from a wide range of art, music and so on.
Freya Dalsjo is founder and designer in chief of the women's wear fashion line FREYA DALSJO. Trained at the Royal Academy of Fine Arts in Antwerp, the Danish designer returned to Copenhagen to present her debut collection during Copenhagen Fashion Week A/W12. The same year she was granted the official opening show of Copenhagen Fashion Week S/S13.
Freya is interested in architecture and psychology and aims to reflect over conflicts of the mind in her work, and discuss what it is to be human, how you perceive your body, surroundings, and life.
Moonspoon Saloon is a fashion label by artists Sara Sachs, Evren Tekinoktay and tal R. With studios in Los Angeles and Copenhagen the trio clashes naive Scandinavian design with loud west coast celebrity in their all unique way.
Moonspoon Saloon expresses creativity, bravery, and personality with styles of original descent.


Hits: 3073
Ordering Art Work Online: What To Look Out for?
---
5 surfing brands you need to know about
---
The Top 5 Footwear Trends to See You Through 2020
---
Reasons to wear gold bracelets
---
White Label World Expo London - Why should Manufacturers attend it?
---
Adam Lambert is the winner of Most Stylish Men September 2019
---
5 Must-Have Summer Accessories Women Should Have
---
How to Incorporate Your Leggings for Your Business Casual Look
---
What is the Best Color to Wear On a First Date?
---
Why Is Online Betting So Popular?
---