Tony Ward at Alta Roma Alta Moda Fashion Week
13 August 2013 | + Boyana Dimova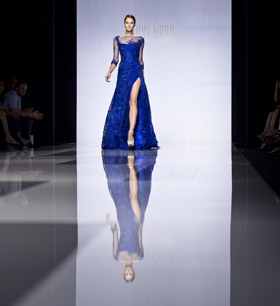 The Italian-Lebanese designer Tony Ward presented his new Fall/Winter 2014 collection at the Alta Roma Alta Moda Fashion Week.
The refined elegance of Tony Ward's creations is the result of a number of professional steps achieved through a successful talent.
After completing his studies in Paris at the best French tailoring school, he worked with the most famous creators: Dominique Morlotti and Claude Montana for Lanvin, Gianfranco Ferre for Dior, Karl Lagerfeld for Chloe.
Some years later, in 1995, he returned to his country, Lebanon, to launch his own line of Haute Couture, in a family Atelier with 40 years of success. In his creations the purity of forms and seduction in the material are designed for a sophisticated, feminine woman of aristocratic exquisite simplicity.
His finest fabrics, enriched with seductive transparencies and precious original embroideries, are sumptuously worked following to the rules of the purest workmanship.
Tony Ward's collections are a tribute to women and their femininity, with the taste and distinctive charm of a timeless style.
In his Fall Winter 2013/14 Collection,"Frozen Memories", Tony Ward takes us on a journey through time. A journey that begins with fantasy, nostalgia for a luxuriant past and extends to embrace dreams and opportunities of the future.
This rekindled vintage is seen in dresses and suits where rich fabric such as brocade, lace and printed gauze are beautifully mixed with perforated leather and silicone beads: a Tony Ward signature innovation.
The designer brings this game of contrasts to life in dresses where leather or glossy satin are combined with hand painted flowers, leaves prints, beading, or silk thread embroidery.
The lines are sleek and pure. Sophistication is revealed in the architectural cuts and the matchless sometimes ultra-modern and sometimes irresistibly retro embroidery.
This Haute Couture Collection reflects once again the incredible skills of Tony Ward Couture House and the talent of a designer who, while shedding light on the past, continues to explore the infinite possibilities of innovation.


Hits: 2009
The Science Behind Football Helmet Decals
---
How UK Fashion Designers Are Changing the Industry
---
How to Find Great Custom LGBT Weeding Suits
---
Vancouver Custom Suits and Bespoke Tailored Suits
---
Summer Resort Clothing for Women
---
Take part in Circular City Week New York
---
Tips on Finding Bilutleie Tenerife
---
Why Viking Fashion Is Making A Comeback
---
The Importance of Dental Care for Men
---
Why Vintage Havana Shoes Remains a Unique Footwear Brand
---