heidi klein Launches High Summer 2013 collection
14 August 2013 | World Fashion Info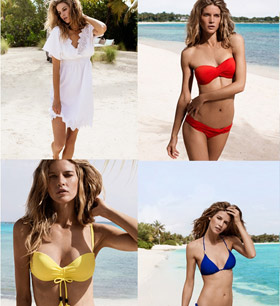 Summer 2013 sees gorgeous new colours, shapes and fabrics from heidi klein. Intricate beading and exotic prints combine with sensual new textures, epitomising the elegance of travel. A fabulous accessories line completes and complements the stunning swim ranges.
This season is all about the strapless bandeau and this key trend is expertly worked into the flattering twisted Cancun bikini and matching mini dress. Other new shapes appear in cover ups with batwing mini dresses in the Kefalonia and Willow Bay ranges. Flowing Manzanilla floor length kaftans reference another big trend for the summer, as do the key 'cut out' pieces in Soleil. Split shoulders are expertly cut to reveal hints of bronzed skin in Saint Lucia. The striking one piece Evissa in a vibrant snake print encapsulates the signature heidi klein style.
Designed with support padding and under wiring, these considered pieces run throughout the collections with shapes to suit all forms. Colour influences are taken from destinations across the Globe. Nude and neutral tones are banished with a myriad of exotic bright colours and head turning prints. Rich Mexican orange appears in Cancun, deep lagoon blue in the Saint Lucia and vibrant high octane citrus yellow in Spanish Manzanilla. The serenity of the Greek Island, Kefelonia embodies luxury with a rich deep plum purple. Eternally chic, the nautical trend is present with a nod to the French isle, Ile De Re, whilst the cool whites of Soleil will perfectly set off the deepest of tans.
The new accessories line features over sized bags in canvas with leather trim and detailing, which includes additional waterproof pouches for wet swimwear and leather credit card holders. Fair Trade Bucket and Hobo Raffia bags produced in Madagascar are perfect for daytime whilst elegant leather and weave clutch's are all you need for travelling light or perfectly setting off an evening outfit.

The heidi klein leather travel wallet is a must have with pockets for boarding pass, credit cards, tips and more. Plaited rope or studded bracelets complete the collection- have a wonderful time! To view the new collection visit: www.heidiklein.com.



Hits: 2035
The Science Behind Football Helmet Decals
---
How UK Fashion Designers Are Changing the Industry
---
How to Find Great Custom LGBT Weeding Suits
---
Vancouver Custom Suits and Bespoke Tailored Suits
---
Summer Resort Clothing for Women
---
Take part in Circular City Week New York
---
Tips on Finding Bilutleie Tenerife
---
Why Viking Fashion Is Making A Comeback
---
The Importance of Dental Care for Men
---
Why Vintage Havana Shoes Remains a Unique Footwear Brand
---