New Autumn Collection of Louis Vuitton
20 August 2013 | + Boyana Dimova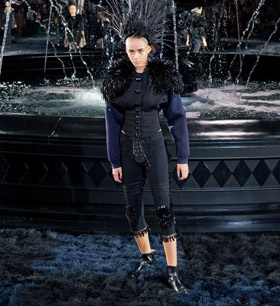 Since 1854, Louis Vuitton has accompanied the world's most celebrated travelers, defining, with each expertly conceived and painstakingly crafted creation, an art de voyager.
Once again at the leading edge of innovation, the Maison has perfected every detail of the new trolley case true to its heritage of leather craftsmanship, combining respect for tradition with daring modernity.
Covering the case's gentle curves, Monogram canvas epitomizes the timeless elegance and legendary robustness for which Louis Vuitton luggage is renowned. Designed to withstand the rigors of life on the move and to perform the feats of acrobatics demanded of high-flyers, it twists and turns upon itself with admirable ease thanks to its 4 multi- directional wheels, ensuring the treasures it transports within its two shells come to no harm.
Inside, it is as ingeniously arranged as one of the Maison's historic trunks. Nothing is left to chance; every detail fulfills a traveler's need, right down to the slim pockets into which a notebook can be slipped at the very last minute.


Hits: 2236
The Science Behind Football Helmet Decals
---
How UK Fashion Designers Are Changing the Industry
---
How to Find Great Custom LGBT Weeding Suits
---
Vancouver Custom Suits and Bespoke Tailored Suits
---
Summer Resort Clothing for Women
---
Take part in Circular City Week New York
---
Tips on Finding Bilutleie Tenerife
---
Why Viking Fashion Is Making A Comeback
---
The Importance of Dental Care for Men
---
Why Vintage Havana Shoes Remains a Unique Footwear Brand
---