The Top 5 Footwear Trends to See You Through 2020
04 Mart 2020 | + Boyana Dimova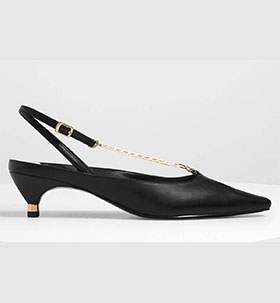 With the new decade upon us, there's no better time to change things up and try something different. If your endeavors include a wardrobe revamp, then working from the bottom up and adding some stylish shoes to your collection is a great way to get started. Fortunately, 2020 is already buzzing with new footwear trends.
The latest styles follow in the footsteps of prior seasons, with bright and colorful designs that will breathe new life into your ensembles. There are also plenty of new and unique ideas to experiment with. Read on to discover 5 footwear trends that will see you through 2020.
Laces
Lace-up styles are the perfect way to stay cool and composed in the heat come warmer seasons. If you're eager to go all-out, slip on a pair of baggy pants and lace your shoes right over them. The Porto Sandal by Reformation is a great option here, while the Carina 30 Wedges by Castaner offer a more traditional look for the summer.
Chains
You needn't look hard to spot this trend on the spring 2020 runways. Akin to a built-in anklet, chain details add a sense of class and character to your footwear. You can find them on everything from strappy sandals to sleek stilettos, as well as booties. Pick up a pair of shoes with chain details to add an unexpected sparkle to your wardrobe.
Minimalism
Sometimes, you just want something that will comfortably get you from point A to B. You might also want to give your garments and accessories a chance to shine. Minimalism is a major trend this year, from toe-ringed leather silhouettes that reimagine the thong to monochrome sandals that let your new pedicure get all the attention.
Gucci's newest season has a number of pieces that fit the bill. This includes the Princetown slippers, Rosie boots, and the faithful Ace sneakers. You can find them alongside a wide range of other Gucci shoes on SSENSE, an online store with a large selection of brands and fast shipping. Head over to their blog for news on all the latest trends and releases.
Bright Boots
Elevate the classic thigh-high boot with a bright color or striking pattern for a serious statement piece. Bring some Calabasas flair into your wardrobe with a luminous pair in light green, blue or pink. Or, put a modern twist on a timeless trend with a uniquely colored faux animal-print, such as teal snakeskin or blush crocodile.
Loafers
Before you keep scrolling, we're not talking about the loafers your great grandparents wore. There's a new wave of loafers hitting the shelves in 2020, with chunky heels, slingback details, and bold colors that bring the ancient shoe into the 21st century.

Prada's Chain-Detail Loafers combine two trends to create a snazzy pair of pumps that will make just as much of an impression in the office as they would on the weekend. The Zumi Leather Loafers by Gucci offer something a little more reserved while still letting you know exactly which fashion house they come from.

All that's left to do is pick out a favorite and start shopping. Good luck!



Hits: 1623
The Science Behind Football Helmet Decals
---
How UK Fashion Designers Are Changing the Industry
---
How to Find Great Custom LGBT Weeding Suits
---
Vancouver Custom Suits and Bespoke Tailored Suits
---
Summer Resort Clothing for Women
---
Take part in Circular City Week New York
---
Tips on Finding Bilutleie Tenerife
---
Why Viking Fashion Is Making A Comeback
---
The Importance of Dental Care for Men
---
Why Vintage Havana Shoes Remains a Unique Footwear Brand
---