THE FIVE STEPS FOR CHOOSING A PERFECT ENGAGEMENT RING
24 August 2021 | + Silvia Kabaivanova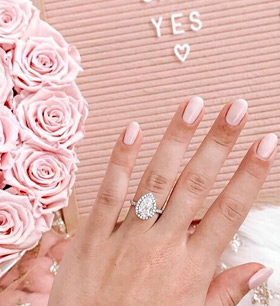 It's got to that time: you're totally in love and you've decided that you're going to propose. Congratulations! Whilst you've got a couple of big decisions ahead of you, one of the biggest is the choice of engagement ring.
This can be pretty daunting, especially to the person who is not well versed in jewellery, but Hatton Garden Jewellers London are going to help you pick the perfect ring for you and your partner.
Has To Be Wallet Friendly, Right?
Budget. You need to know your budget before you start collecting rings. A usual rule of thumb for a budget is three full months' salary—so get saving! Some people find that they want to splurge on a once in a lifetime purchase, some want to dial back due to wage instability, and some people find their budgets change once they start looking. There's no right or wrong way as long as you're spending within your means, but tip 1: don't go so far as to put yourself into debt. And tip 2, don't set anything in stone but do have a ballpark figure or idea.
Understanding Your Stones
Diamond is the usual stone that is used, and the centrepiece stone is the most expensive component of the ring. So as expected, this is probably the most complex step! Whilst diamond is the most common, you can use any stone you wish—and different choices have become more popular in recent years. A key tip: spend some time looking into the different types of stone, and don't get overwhelmed. This is the main part of the ring so it is important to get right. Keep looking until you find the one that makes your soul sing.
The four Cs come into play here: cut, clarity, colour, and carat. There are also around ten shapes to choose from and all of these things can have an effect on price. Another tip: if you have to make concessions then choose to do so on colour or clarity but try not to skimp on the cut.
Now is the time to decide on additional details. Some people like to get smaller stones set around the centre, and if budget allows a personalised touch is always appreciated. Bespoke services are always a good way to go if you really need help or want to totally tailor your own ring for your partner. Working with a team of professionals to guide you to curate your own custom made ring is a great help and a weight off your shoulders!
A Little About Metals
White gold is mostly used for rings, but again there aren't really any rules here as long as you and your partner are happy with the choices. You have to think about colour, strength, and rarity. Try to choose a metal that offsets the style of the stone whilst being tough enough to withstand day to day knocks and hard enough to not bend. You don't want a soft or malleable metal that will warp after a few months.
Size
There are a myriad of ways to ensure that you get the proper size, and this is a really important step. Before you head to the jeweller's, try and take one of your partner's current rings with you for a guide. You don't want the ring to be too small to slip over their finger when you propose, and you don't want it to slip off!
And Style!
Style is probably the second biggest decision to make. There are classical solitaire styles, newer and more contemporary halo styles, vintage options that are a little more out there, and more! Style refers to the stone setting, which is the way the stone is set to the band. It is a big factor in the overall look of the ring. Do your research, know your options, see which best matches your partner, and don't rush! This is another big step so take your time to ensure you get it right. When you are ready, Hatton Garden Jewellers can help you with your selection, so feel free to start browsing and begin your journey to the perfect engagement ring.

Photo from holtsgems.com



Hits: 1870
Non-Prescription Sunglasses, Daily Contact Lenses, and Monthly Contact Lenses: Points to Consider While Buying
---
How to Wear Headbands: A Comprehensive Guide to Selecting and Styling This Timeless Accessory
---
6 organizations will participate in the CLOTH project ClusterXChange in Ruse/Bucharest 19-21 April 2023
---
Site for quality women's underwear at low prices
---
Leggings with Lifting and Tightening Effect: True or False?
---
White Label World Expo 2023 - UK's leading online retail sourcing show
---
Which dress is best for a birthday girl?
---
5 Watches Worth Investing In Today
---
4 Types of Engagement Ring Settings
---
Choosing Lab-Grown Diamonds in Calgary
---