Spring/Summer 2014 by Burberry Prorsum
18 September 2013 | + Boyana Dimova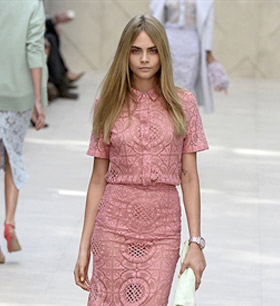 Burburry Prorsum presented their new Spring/Summer 2014 collection at the London Fashion Week.
Burberry Group plc is a British luxury fashion house, distributing clothing and fashion accessories and licensing fragrances. Its distinctive tartan pattern has become one of its most widely copied trademarks. Burberry is most famous for its trench coat, which was designed by founder Thomas Burberry.
The most outstanding trends noticed at the show were: light suede tan coats, grey school cardigans, lace dresses, belts around wide necked satin coats.
The palette was pastely passive - Ladurée macaroon colours letting lacy dresses and front-split pencil skirts play tasty filling to the coats, while sheepskin clutches scrunched in one hand added a dash of darker orange or pink.
The geometric designs such as dots and stripes are a key feature of the collection.
The full collection for Spring/Summer 2014 by Burberry Prorsum:
Photos: www.londonfashionweek.co.uk



Hits: 2633
Summer Resort Clothing for Women
---
Take part in Circular City Week New York
---
Tips on Finding Bilutleie Tenerife
---
Why Viking Fashion Is Making A Comeback
---
The Importance of Dental Care for Men
---
Why Vintage Havana Shoes Remains a Unique Footwear Brand
---
What Your Apparel Says About You
---
What Do The Top 5 Best Jewelry Stores In Orange County CA Offer
---
Is SMP Safe? Detailed Answers
---
The Importance Of Clean Quality Ingredients When Looking For A Beauty Shop
---