Why Wear Vintage Brooches?
04 Mart 2022 | + Silvia Kabaivanova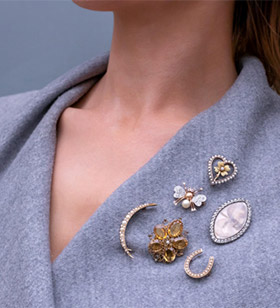 Let's say that you want to spice up your outfit and make it more elegant, but you don't know how to do just that. The truth is that every person has their own unique style but sometimes circumstances demand that you dress more elegantly, even if that's not what you wear on the street.
Brooches and pins are timeless fashion accessories that never go out of style. They add elegance and grace to any outfit, and they are both incredibly stylish and versatile enough to be worn in a number of settings and scenarios. Find out more by clicking on this link https://www.stuff.co.nz/life-style/style/300511114/festival-of-fashion-how-to-embellish-your-clothes
This collection of accessories, in addition to adding a unique touch to your look, may also serve as great conversation starters. These stunning pieces of art are embellished with gorgeous or quirky themes that are guaranteed to attract the attention of anybody who comes across them.
An ensemble that might otherwise be dull may be transformed with the addition of modern pins, antique pins, and vintage brooches to create a statement. Items from a bygone era, such as gem floral designs, comical animals, or conventional cameos, can be worn on jackets, hats, collars, and even in your hair, among other things.
The origin of brooches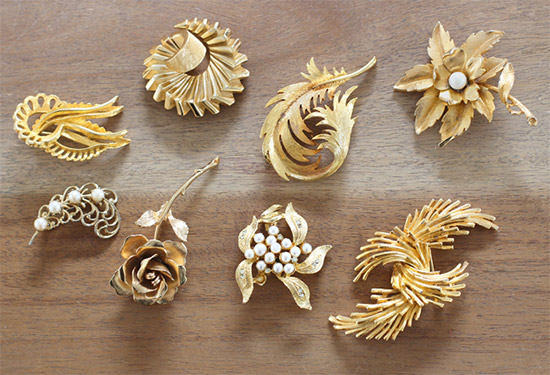 Any piece of jewelry you can find nowadays to purchase has a rich and amazing history. The same goes for the brooches we wear today. The initial brooches and pins were not designed to be worn as jewelry, and they were not intended to be worn as such. The truth is that they were created to be both functional and beneficial in the natural world. Originally made of flint and thorns, they were used to keep clothes such as loincloths in place while they were being worked.

Metal pins became widely available throughout the Bronze Age, and the Celts continued to utilize pins to keep their cloaks in place throughout this period. Brooches were used on a routine basis by both women and men throughout the Viking era, and they were available in a range of styles and levels of complexity to suit any taste.

Pins and brooches are now witnessing a rebirth in favor among fashionistas. Chanel and Boucheron are two high-end designers that have included them into their creations in the past few years. For enthusasts, vintage brooches as well as pins are especially sought-after collectibles to hunt out and acquire. Who can blame them? They look amazing on almost any piece of clothing.

Increasingly common is the practice of celebrities and models wearing pins on the red carpet and on the runway. In television episodes such as The Crown and The Tudors, pins and brooches are frequently influenced by movies and television series. Most famously, the Schlumberger dolphin brooch, which Richard Burton purchased for Elizabeth Taylor for the premiere of Night of the Iguana, is possibly the most famous example. Click here to find out more about the topic.

Placement
Brooches were often worn on the lapel of the jacket's front, where they were visible. An antique brooch placed in this spot will always be the most traditional and exquisite choice. One of the most fantastic looks in the fashion world is a beautiful jewelry brooch worn on the lapel of a Coco suit, and there's a good explanation for it.

To be on the safe side, consider wearing your brooch on your bust or even in the center of the collar of a button-up shirt for a distinctive impact if you're looking for something a bit unusual. You can always check out more tips on how to wear your brooch the right way.

Don't be afraid to try something new
A plethora of distinct brooch kinds were seen on the runways of this year's shows from Gucci, Oscar de la Renta, YSL, and Marni, among other designers. That's because even world-famous designers acknowledge this amazing piece of jewelry. An eclectic cluster of vintage brooches, all worn on the very same shoulder, is a new fashion trend in the world of fashion. Why not take advantage of that as well?

As an illustration, consider a bouquet of various flowers or a magnificent group of ladybugs, bees, and butterflies. By blending contemporary pieces with more traditional designs, as well as monochromatic pins with colorful accessories, the whole appearance is given an infusion of vitality and delight.

Other things to know
The use of a brooch to close an asymmetrical-cut sweater or jacket is a stylish option. Your favorite white shirt has a button that has come undone at the top. Finish it up with a rhinestone brooch.

Make use of your creativity when you are putting together an outfit that you want to crown with a brooch. When worn correctly, brooches may be employed as gorgeous adornments in a number of contexts, even unexpected ones. Using an antique brooch to close the back of your gown will complete the appearance. Consider a satin dress with no back, which is held together by a diamond brooch at the neckline. What is more perfect than that?

Moreover, your brooch can be worn as a piece of jewelry. Wear it on a beautiful chain to create the illusion of it floating in the air, or wrap it around the neck with a silk cord or perhaps a string of pearls for a much more formal setting. You may also use it to make a dramatic hairdo by attaching it onto a barret and wearing it down.

Conclusion
If you are set of buying a brooch or maybe two, you should find a reliable store, either online or local, to buy them from. As with any piece of jewelry, there are more expensive and cheaper options. You should buy one that suits your taste, but your budget as well.
If you don't know what to do, you can check online for recommendations from other customers or ask those closest to you for referrals on where to buy the best brooches. Good luck with spicing up your style!



Hits: 1679
Non-Prescription Sunglasses, Daily Contact Lenses, and Monthly Contact Lenses: Points to Consider While Buying
---
How to Wear Headbands: A Comprehensive Guide to Selecting and Styling This Timeless Accessory
---
6 organizations will participate in the CLOTH project ClusterXChange in Ruse/Bucharest 19-21 April 2023
---
Site for quality women's underwear at low prices
---
Leggings with Lifting and Tightening Effect: True or False?
---
White Label World Expo 2023 - UK's leading online retail sourcing show
---
Which dress is best for a birthday girl?
---
5 Watches Worth Investing In Today
---
4 Types of Engagement Ring Settings
---
Choosing Lab-Grown Diamonds in Calgary
---