Choosing the Right Hair Cut and Finding a Cut and Color Salon Near You
13 April 2022 | + Silvia Kabaivanova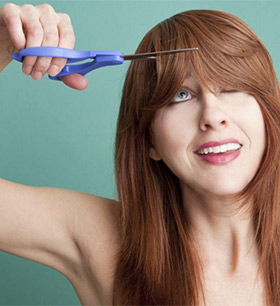 Just like most things you choose; your hairstyle and haircut don't need to be from a catalog of one-size-fits-all. In fact, with the right cut, you can enhance the features of your face you didn't know about and look a lot more attractive.
Many people choose different haircuts for different reasons, the practical types may choose a short easy to maintain the look, while others find they prefer layers on long hair or a short bob for instance. What you go for should ideally reflect your personality and lifestyle choices. Whatever you are most comfortable with is the way to go.
Unlike items of clothing where you can adjust them to fit you or take them off after they have been through wear and tear, your hair isn't as easy to change, and once you've got the look, it may be difficult to change it, if you do change your mind at some point, and the only solution may be to cut it off or grow it out. Needless to say, careful consideration is key in this area.
One of the main things hairdressers go with is the shape of your face. This makes or breaks a good hairstyle and can make all the difference to your confidence and overall look. There are people with all kinds of face shapes, and there are just as many, if not more, haircuts to suit each one. We look at a few of the common ones below, so you can choose the right one for you.
Face Shapes and Haircuts to Suit Each
First of all, determining your face shape should be the initial step to take. If you are not sure which is which and the one that you have, this guide, as well as the below basic information can help you out.
The various ones include oval, long, square, heart, diamond, and triangle for most men and women. So which style suits each one?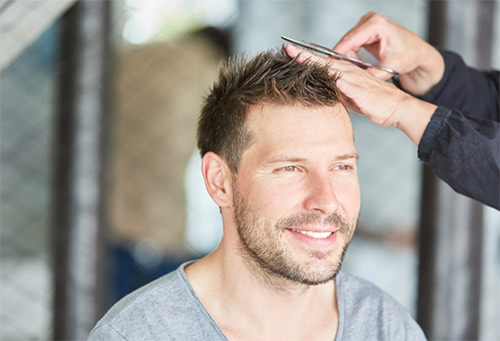 Round Shapes
If you have a circular shaped face, and perhaps your chin is rounded too, you would suit the cuts made for round faces. The right one could give it some definition. Sometimes people opt for those that hide their least desirable features such as a double chin, some baby fat on your cheeks or a chubby face.
You can choose one of these for this shaped face:
A style with some height on the top
A square-shaped cut
A flat-top works well too
Fringes in the front
A cut with square corners adds structure
For males, a full beard can add some angles to a round face and chin
A Square Face
One of the ideal masculine traits, according to many men's and women's magazines, is having a strong jawline. As one of the more masculine traits of a man, a chiseled and evenly proportioned face is attractive, and although not everyone is born with it, you can do some things to help achieve this look.
With this face shape, most styles such as those mentioned here: https://www.purewow.com/beauty/haircuts-for-square-faces work, but if you don't have it and want to look like you do, then opt for a cut that has a faded look to the sides, with short layers and also a side parting that gives the illusion of a strong or structured face.
Anything from a buzz cut for men, to a French bob crop, would look good. Both short and long hairstyles give the appearance of a slimmer look and of course, a classic and neat cut can sharpen any jawline.

Long Shaped Faces
Those who have a more oblong shape or long face can choose to go for styles that have either square or oval results. They may need to be adjusted accordingly so you don't elongate your face even further, but a professional hairdresser at a salon can do this for you. The best way to find one is to do a search online for the phrase cut and color near me and speak to them about the best way forward.
Once you find the right place to suit your needs, you can stay with them for as long as possible. As they say, getting a hairdresser is like finding a dentist or doctor, once you've discovered the best one for you, there is no need to go anywhere else.
For long-faced people, there is no need to have the sides of your hair too short, instead keeping the top short but the sides longer will help equalize things. Any style that's proportioned well could work for you. For those with longer hair, letting the hair fall to the sides of your face and also having a fringe, will add some width and dimension to the overall look.

Heart and Diamond Shapes
The typical heart or diamond facial structure comprises a wider top of the head or hairline and a narrower chin or jawline, almost like an upside-down triangle. If your chin is narrower than the top of your face then medium length hair cuts would suit you. If you do want longer hair then get the hairdresser to soften the edges to distract from a strong forehead.
If you are a man, facial hair could be an advantage. It adds bulk to the bottom half of your face, thus enhancing its overall shape. A full beard is a great option, and when kept neat and tidy can do wonders for your attractiveness.
Diamond shapes are however the rarer of the two, but there are some that have it and those cuts that add more depth to their chin and forehead, could work. Long hair tucked behind the ears, could also add some dimension. Don't opt for those styles that are too short, or else your ears may stick out, or look like they are sticking out.
Overall for both these, the softer looks are ideal and well-suited. You could also go with a side parting that sweeps across your forehead if you are female.
Now that you know which shaped face you have, choosing the right style or haircut is as easy as picking it out of a magazine or the salons' catalog.



Hits: 1843
Non-Prescription Sunglasses, Daily Contact Lenses, and Monthly Contact Lenses: Points to Consider While Buying
---
How to Wear Headbands: A Comprehensive Guide to Selecting and Styling This Timeless Accessory
---
6 organizations will participate in the CLOTH project ClusterXChange in Ruse/Bucharest 19-21 April 2023
---
Site for quality women's underwear at low prices
---
Leggings with Lifting and Tightening Effect: True or False?
---
White Label World Expo 2023 - UK's leading online retail sourcing show
---
Which dress is best for a birthday girl?
---
5 Watches Worth Investing In Today
---
4 Types of Engagement Ring Settings
---
Choosing Lab-Grown Diamonds in Calgary
---