4 Types of Engagement Ring Settings
11 May 2022 | + Silvia Kabaivanova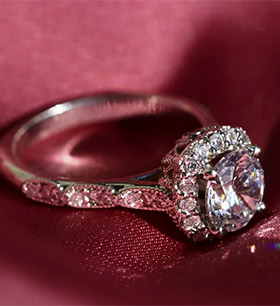 The setting plays a critical role in presenting the piece's center stone, alongside the diamond shape and metal type. It's also an essential consideration when it comes to determining the ring's overall style. For this reason, you must keep this factor in mind if you're planning on having a bespoke design for your chosen gem. In this guide, we'll cover some of the popular types of engagement ring settings and what they bring to the table, so you can make a more informed decision on your purchase. Keep reading to learn more.
Channel setting
As its name implies, this setting has smaller stones set into grooves — a channel, in this case — on the ring's band so that only a thin strip of metal remains visible on either side. With a channel setting, the center stone is more securely tucked in place, making it one of the best ring settings for loose stones. There's also minimal risk of the diamond being snagged or caught. However, it's worth noting that maintenance can be tricky with this particular setting, and having to resize the ring may prove challenging. If you can live with these concerns, then this is the one for you.
Bezel setting
This chic setting has the center stone circled with a thin rim of metal that's custom-made to hold down the diamond in its place tightly. The bezel style can either be partial or full — the former tends to have open sides while the latter has the gem completely surrounded. With its modern, unique style, it comes as no surprise why many prefer this setting. However, since it hides a good portion of the stone's surface, it also reflects less light, which may affect its brilliance.
Tension setting
As one of the more unique setting styles, the tension setting earns its name from its innovative approach to securing the center stone in place. With this setting, the diamond looks as if it's suspended in-between the shank's sides. It's eye-catching due to its contemporary and distinctive style, showcasing the gem's beauty in its entirety. However, similar to the abovementioned channel setting, it can be tricky to resize.
Halo setting
The style where diamonds are placed in a square or concentric circle around the center stone is referred to as a halo setting. In many cases, this setting is often used to make the diamond look larger than it is, making it an excellent option for those looking to maximize their budgets while maintaining the sparkle and striking appearance of the gem in the engagement ring. However, it will require more maintenance than other styles, and it's worth keeping this in mind before you commit to it.

The setting of an engagement ring is an easy element to overlook, but it's a mistake not to consider it when selecting your jewelry piece. After all, if you don't take the setting of the ring into account, you could choose one that isn't suited to your partner. So be sure to put some thought into which setting will best fit your soulmate.
Image: https://unsplash.com/photos/IXXrpAUwSwU



Hits: 1576
Non-Prescription Sunglasses, Daily Contact Lenses, and Monthly Contact Lenses: Points to Consider While Buying
---
How to Wear Headbands: A Comprehensive Guide to Selecting and Styling This Timeless Accessory
---
6 organizations will participate in the CLOTH project ClusterXChange in Ruse/Bucharest 19-21 April 2023
---
Site for quality women's underwear at low prices
---
Leggings with Lifting and Tightening Effect: True or False?
---
White Label World Expo 2023 - UK's leading online retail sourcing show
---
Which dress is best for a birthday girl?
---
5 Watches Worth Investing In Today
---
4 Types of Engagement Ring Settings
---
Choosing Lab-Grown Diamonds in Calgary
---