Which dress is best for a birthday girl?
25 October 2022 | + Silvia Kabaivanova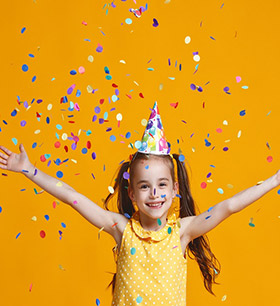 You may be wanting to gift your sister or a female friend a birthday dress as a gift. Also, you could be the birthday girl and wondering which is the best dress you can wear on your special day. Birthdays are special because they occur only once a year. For this reason, you should always commit to getting a lovely dress for that loved one! We have highlighted the different characteristics that you should look out for.
You will be able to make a good choice which will impress whoever will be wearing the dress. However, it is worth it to take your time and pay attention to every detail of the different dresses. Good luck with figuring out the best girl birthday dress to buy for her! Here are some of the characteristics you should look for in a good birthday dress.
Color matching
You have to consider the skin tone of whoever is going to wear the birthday dress. You don't want to have a dress that doesn't match the skin tone of its wearer. Also, it's important to know the color preferences of the person who the dress is intended for. If you are going to surprise someone on their birthday, then let it be with their favorite color. So, knowing their favorite colors ensures that you buy a girls dresses that will be likable to the wearer.
Body shape and dress style
One of the top qualities of a dress is how perfectly it suits the person wearing it. It is thus important for you to consider the body shape of whoever will have the dress. It is important to note that, different dresses have different styles which fit different body shapes. For instance, a wedge-shaped body will look great in a wrap dress because it ensures that attention is drawn to the hips.
Also, pear-shaped bodies look great in A-line dresses because they conceal huge hips. V-shaped dresses can be perfect for drawing attention to the arms and neck. You don't want to gift someone a dress that doesn't fit them. She will appreciate the birthday dress more if it fits her well.
Cost and versatility
A girls dresses should be versatile - it should be comfortably worn after an eventful day. Unlike wedding gowns, birthday dresses should be simple and should be able to be worn on different occasions. You should not go for a casual or official dress. Find one that accommodates the two extremes well. In terms of cost, the dress should be worth every penny.

You have to be keen on the fabric, embroidery (if any), and any other design features. Ensure that the pricing of the dress has been properly done. You should, however, be mindful that the same dress can cost differently depending on where you are buying it. For example, high-end chain stores targeting the rich population will charge you more.

Once you are done deciding which birthday dress to purchase, you are done. The remaining activities like wrapping it up and delivering it are the simplest aspects of the whole exercise.



Hits: 1231
Non-Prescription Sunglasses, Daily Contact Lenses, and Monthly Contact Lenses: Points to Consider While Buying
---
How to Wear Headbands: A Comprehensive Guide to Selecting and Styling This Timeless Accessory
---
6 organizations will participate in the CLOTH project ClusterXChange in Ruse/Bucharest 19-21 April 2023
---
Site for quality women's underwear at low prices
---
Leggings with Lifting and Tightening Effect: True or False?
---
White Label World Expo 2023 - UK's leading online retail sourcing show
---
Which dress is best for a birthday girl?
---
5 Watches Worth Investing In Today
---
4 Types of Engagement Ring Settings
---
Choosing Lab-Grown Diamonds in Calgary
---